Six Degrees Dub Miami - Winter Music Conference
presented by
Six Degrees Records
and
Heineken's TransAtlantic Festival
with support from La Family Dub
La Family Dub
Thursday March 27th at CIFO (1018 North Miami Ave.
Miami,FL)
9-2am $10 admission (free w/ WMC badge)
A night of dubbed electro global beats and first U.S.
appearance by the UK's
Gaudi
with Jef Stott
DJs: Bob Duskis and The Worker from San Francisco's
Six Degrees Records
Gaudi brings his raved about live performance for the first time to the U.S... he'll be performing the deeper flavors of dub n' breakz as well as songs found on his "Dub Qawwali" release.
Jef Stott will be performing his unique blend of Middle Eastern and North African instrumentation with modern electronic beats.. also exploring a deeper side of his sound- live oud and electro beats with special guests. He'll also perform tracks from his upcoming Six Degrees album "Saracen" out in mid April.
Bob Duskis and The Worker from
Six Degrees Records
will be spinning global beats.. covering the latest tracks and unreleased gems from South America, Africa, Asia and Europe.
visuals by VJ Culture
------------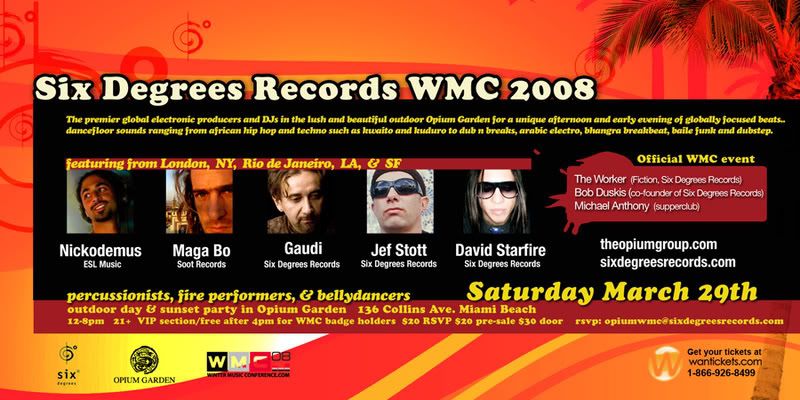 Six Degrees Records WMC 2008 - Outdoor Day and Sunset Party
Opium Garden (136 Collins Ave.
Miami Beach, FL)
12:00pm-8:00pm 21+
*Presented with support from
La Family Dub
rsvp: opiumwmc@sixdegreesrecords.com
pre-sale:
wantickets. com
- 1-866-926-8499
featuring the premier global electronic producers and DJs in the lush and beautiful outdoor Opium Garden for a unique afternoon of globally focused beats..
featuring from London, NY, Rio de Janeiro, LA and SF..
Gaudi (Six Degrees Records)
Nickodemus (ESL music)
Maga Bo (Soot Records)
Jef Stott (Six Degrees Records)
David Starfire (Six Degrees Records)
The Worker (Fiction, Six Degrees Records)
Bob Duskis (co-founder of Six Degrees records)
Michael Anthony (Supperclub)
dancefloor sounds ranging from african hip hop and techno such as kwaito and kuduro to dub n breaks, arabic electro, bhangra breakbeat, baile funk and dubstep.
with percussionists, fire performers, bellydancers and more...
more info: 305-531-5535 - Opium Garden